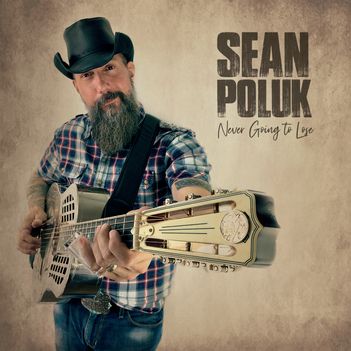 Never Going To Lose is an exciting refreshing take on the blues genre. It is a whole new wave of blues-roots americana all rolled into a engaging new way of presenting something that is fresh and interesting.
This release is going to be definitely pushing the envelope of roots blues to a whole other level. Sean Poluk has in some ways re-invented the acoustic blues vibe and this cd stands out as an example for those who should follow in Sean Poluk's footsteps and step outside to the uncharted territory of the new wave of doing acoustic roots blues. This release has a twist of imagination and experimentation not yet seen in your typical blues genre, whether electric or acoustic. 
This is a whole new genre of music that has been discovered, crafted and developed by all the musicians who participated in this endeavor. 
Never Going To Lose release captures ones imagination as you journey from song to song  with Sean as he shares his thoughts in song,it is a trip of special significance, like a trip to be remembered every time you listen.  
Never Going to Lose elevates the listeners expectations and wonderment from one song to the next.  Never Going To Lose is a stunningly well crafted group of songs, expertly produced and engineered. The songs are tastefully crafted with well appointed backing vocals, harmonies and wonderful instrumentation. The heart of the matter though is in the messages within the songs, the lyrical content is strong and the singing of Sean Poluk provides and captures a mood of reflection and appreciation for life. The songcrafting is wonderful. The Slide Guitar and Dobro work by Sean adds a special colour and vibrancy and it is done in such a seasoned and expert manner. Never Going to Lose is a roots blues americana vibe that will have you coming back many times to experience a special memorable journey again and again.